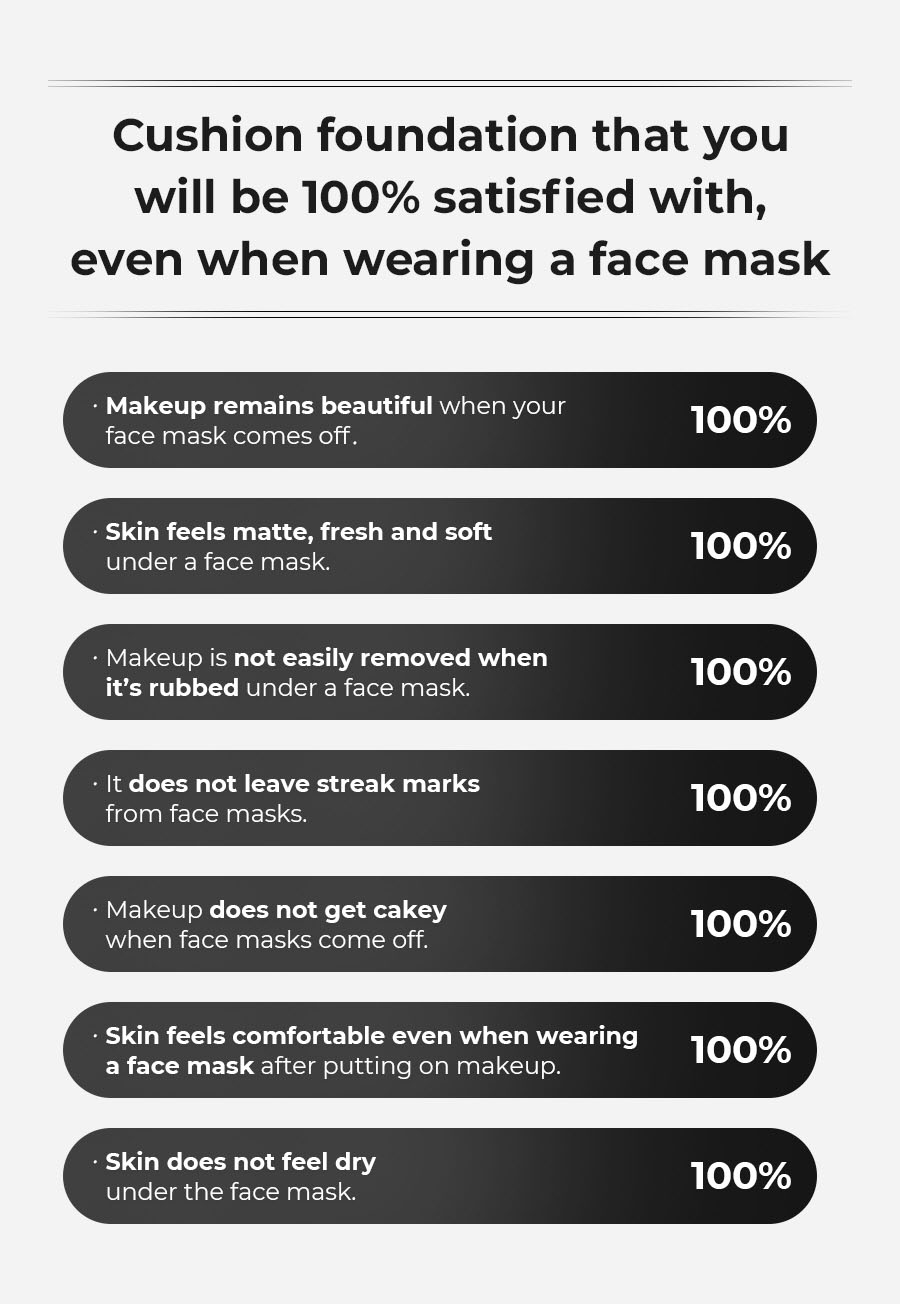 Cushion foundation that you will be 100% satisfied with, even when wearing a face mask
∙ Makeup remains beautiful when your face mask comes off.
∙ Skin feels matte, fresh and soft under a face mask.
∙ Makeup is not easily removed when it's rubbed under a face mask.
∙ It does not leave streak marks from face masks.
∙ Makeup does not get cakey when face masks come off.
∙ Skin feels comfortable even when wearing a face mask after putting on makeup.
∙ Skin does not feel dry under the face mask.
*94% effectiveness of foundation not being transferred to a face mask (transfer-proof effect)
Clinical trial results
Test institution: P&K Skin Research Center / Subjects: Adult women aged between 20 and 40 (N=22)
Period: January 18 to 19, 2021
BLACK LINE
Unique blending & layering with BLACK
"Magnet-fit Pigment Technology"
Unique BLACK coverage technology
that thinly and evenly spreads for enhanced blending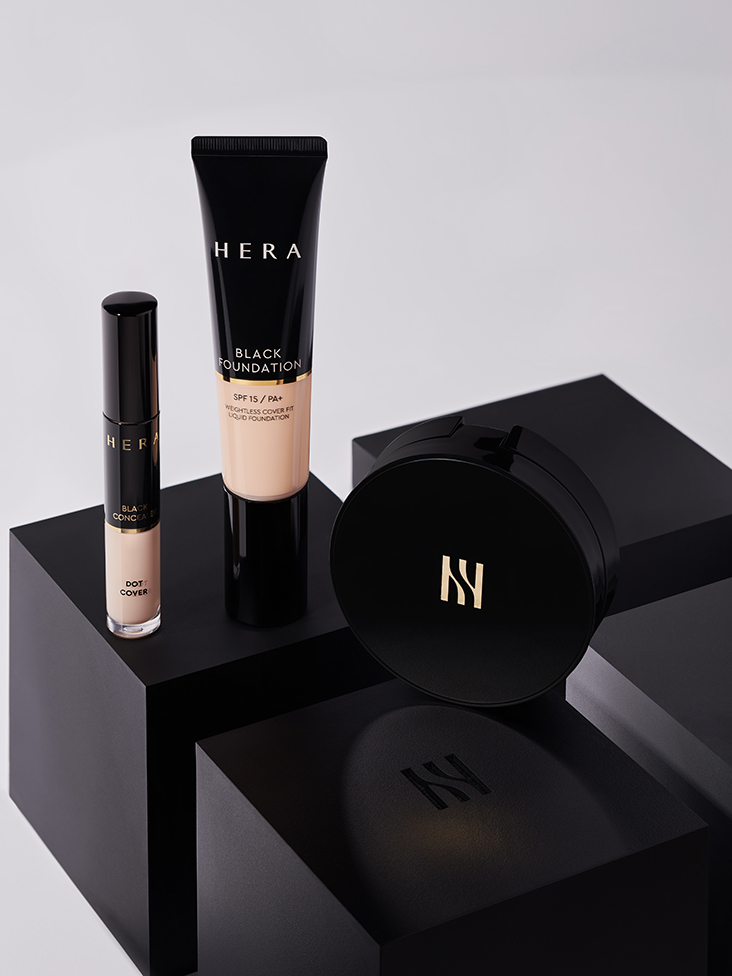 BLACK synergy for perfect, seamless coverage in a thin layer
The BLACK line features Cover Chemistry, allowing each of its products to draw on the others
to enhance blending and length of wear when used together.
Combinations of the BLACK line offer seamless coverage & color layering
that give a seamless look.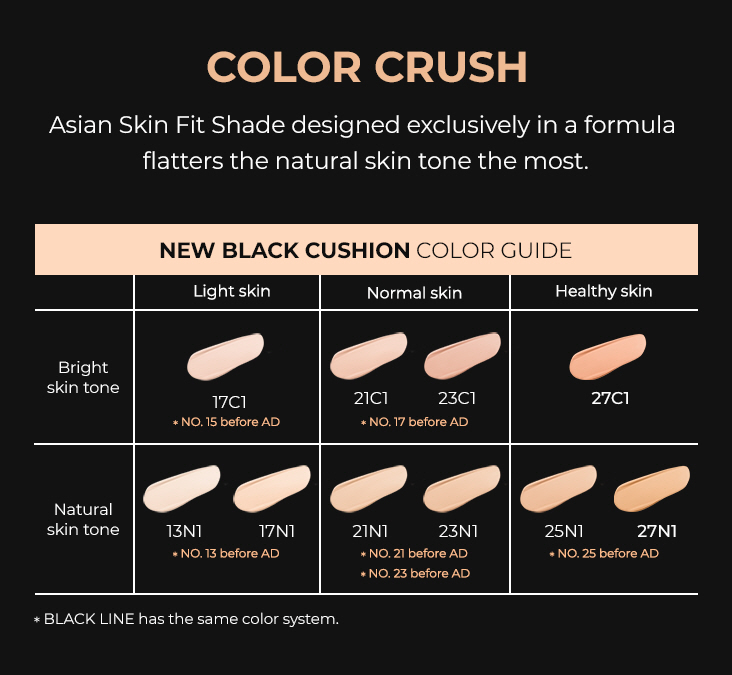 COLOR CRUSH
Asian Skin Fit Shade designed exclusively in a formula flatters the natural skin tone the most.
NEW BLACK CUSHION COLOR SHADE GUIDE
 
Light skin
Normal skin
Healthy skin
Bright skin tone
17C1 *NO. 15 before AD
21C1 / 23C1 *NO. 17 before AD
27C1
Natural skin tone
13N1 / 17N1 *NO. 13 before AD
21N1 / 23N1 *NO. 21 before AD *NO. 23 before AD
25N1 / 27N1 *NO. 25 before AD
*BLACK LINE has the same color system.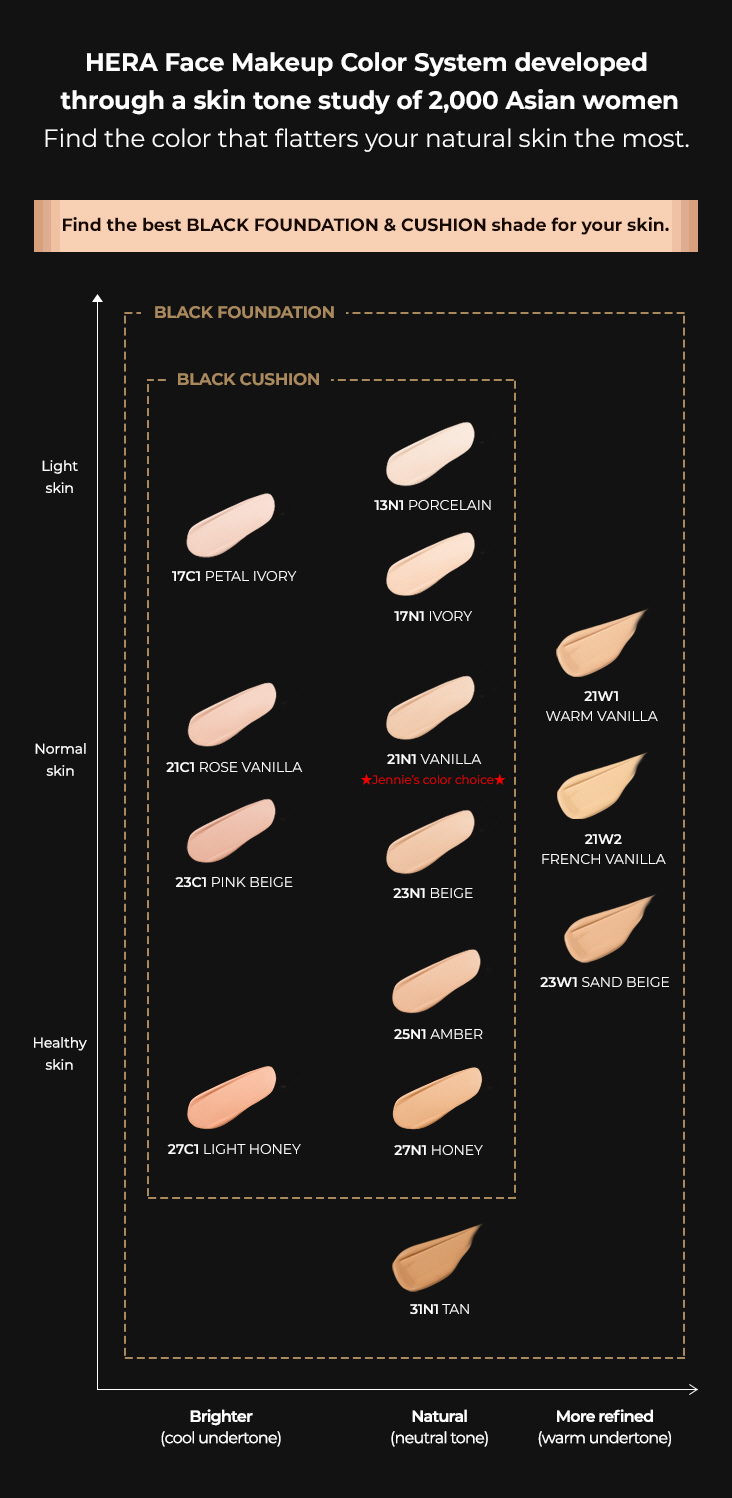 HERA Face Makeup Color System developed through a skin tone study of 2,000 Asian women Find the color that flatters your natural skin the most.
Find the best BLACK FOUNDATION & CUSHION shade for your skin.
Light skin / Brighter (cool undertone) - 17C1 PETAL IVORY Light skin / Natural (neutral tone) - 13N1 PORCELAIN, 17N1 IVORY
Normal skin / Brighter (cool undertone) - 21C1 ROSE VANILLA, 23C1 PINK BEIGE Normal skin / Natural (neutral tone) - 21N1 VANILLA(*Jennie's color choice*), 23N1 BEIGE Normal skin / More refined (warm undertone) - 21W1 WARM VANILLA, 21W2 FRENCH VANILLA, 23W1 SAND BEIGE
Healthy skin / Natural (neutral tone) - 25N1 AMBER, 31N1 TAN, 31N1 TAN Healthy skin / More refined (warm undertone) - 23W1 SAND BEIGE
Shelf Life
36 months from the date of manufacture, 12 months after opening
Precautions
Keep the inner case closed after use. Leaving the product unclosed may lead to shrinkage of the formula caused by evaporation of moisturizing components and other ingredients beneficial to skin.
If symptoms such as red blotches, swelling, itchiness or irritation appear while using the product and/or when the skin is exposed to direct sunlight after use, consult a dermatologist.
Do not use the product on any wounds or areas of irritation.
Precautions for handling and storing the product

Keep the product out of the reach of children.
Stop using the product if any abnormal symptoms occur.
Keep the product at 10–30℃, away from direct sunlight.
BLACK MAKE UP LOOK
Shipping and Refund Policy
Orders are shipped via DHL Express which normally takes 2-5 business days. Your items are packed with the utmost care and you will be provided with a tracking number once the item is on its way to you
In case we are at fault for any issues with your order, we take full responsibility for your items and we offer a full refund or exchange/re-send the items. Please contact us at help@sooandcarrots.com within 3 days of receiving the parcel, in case you encounter any troubles with your order.
There are some cases in which we cannot assume responsibility for the failure of delivery, such as: putting down the wrong address, failing to respond to DHL or Custom Services' inquiries, the parcel being stolen after it had already reached its intended destination, cancelling the order after we've already shipped the items.
In the above mentioned cases we cannot offer a refund for your order.
Regarding Customs Charges, policies vary from country to country so please make sure to consult your country's customs services before placing an order.
♥Soo's Choice! [Dr.G] Red B...

♥Soo's Choice! [Cosrx] *Cru...